Management Society
At Management Society, our Slogan "Towards Continuous Improvement" is an integral part of our society. Combining unparallel experience, business projects with unlimited new exposure, Management Society capable of helping students to create the value they're looking for. We also provide the platform to unite the students' welfare with the school administrative.

Mission
1. To put the Management students knowledge acquired in the lecture halls into practice.

2. To exposed students to the challenges and realities of the real business world.

3. Network and foster ties with Chief Executive Officers and Captains of Industries and Professional Bodies, and

4. Showcase their talents and provide potential employers to peek preview of what SOM students are capable of.
Prior to the establishment of the Management Society, all students activities were organized through the Management Club. However, in 1991, the Management Club was officially replaced by The Management Society of the School of Management (SOM).
General Information
For students who would like to know more about competition, workshop, talks and intership opportunities regarding business field that is happening in USM Main Campus, kindly 'like' this page for us to update you with all the latest events!
Founding date
By School of Management, Universiti Sains Malaysia since 1989
NO

PROJECT TITLE

DATE

PROJECT OBJECTIVE

1.

Recruitment

12/13 September 2013

To recruit first year representatives

To introduce Management Society

2.

Interaction Day/beach cleaning

12 October 2013

To enhance interaction among members

3.

Career exposure

16/23/30 November 2013

To expose students to the entrepreneurial world

4.

SOM night

14 December 2014

To build relationship among seniors and juniors

5.

SOM Bazaar Fair

27 February 2014

To expose students to entrepreneurial world

6.

Sports Day

16 March 2014

To build sportsmanship among students

7.

Charity Event

23 March 2014

To involve students in bringing back to community

8.

Industrial Visit

26-28 March 2014

To expose students to working environment

9.

Management Week
(Youth Evolution Summit Workshop)

13-19 April 2014

To provide students a platform to get employed

To equip students with the characters to succeed in workforce

10.

Annual General Meeting

16 May 2014

To appoint and introduce new board of committee to new members
1. Interaction Day
School of Management's Interaction Day was held for the new batch of students (2012). This event was conducted by Accounting and Management Society. The event's main goal was to promote student's interaction between one another so that they could have a better relationship with one another as they entered University. Games and performance by the First Year Representative for Management Society was the main highlight of the event.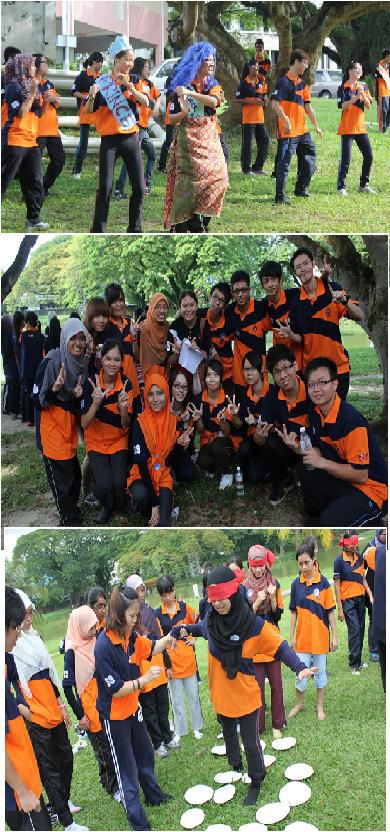 2. Prom Night
Prom Night was conducted for the students of Management. This event's main audience was for the Final Year students in order to provide them a memorable night before they graduate. It was held in Bayview Beach Hotel. The main theme was The Phantom of The Opera and all participants are required to dress according to the theme. Performances by students of School of Management are included in the program. Prior to the end of the event, The Best Prom King and Queen were elected.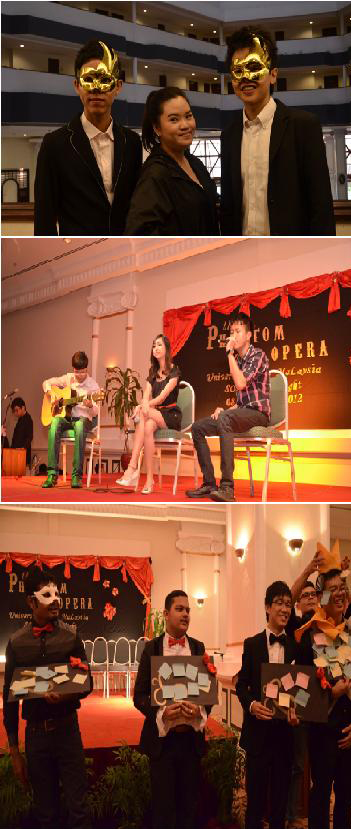 3. Industrial Visit
Industrial Visit, an event where all students can grab this opportunity to visit major companies in Kuala Lumpur and actually see how these companies operate. Students will actually learn how each of their majors (Finance, Operations Management, International Business, Marketing, Islamic Finance, Organizational Behavior) will actually be applied in companies. Visited companies would include, Pos Laju, PKT Logistics, Great Eastern, Public Bank, Cerebos and more.
4. Youth Evolution Summit 1.0
One of the biggest event conducted by Management Society. Grand prize would include Ipad Mini for each team member. Other prizes would include Starbucks Tumbler, Instax Mini and a free stay in Hard Rock Hotel. Talks by several professionals were conducted to further strengthen student development. Business games were held in order to improve student communication, analyzing and leadership skills.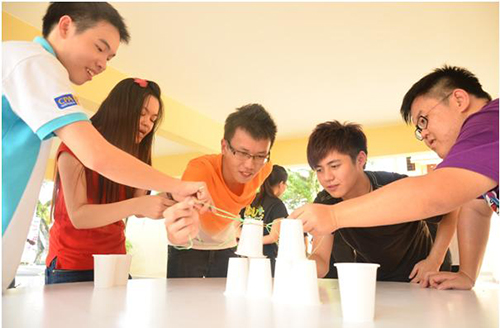 Business Game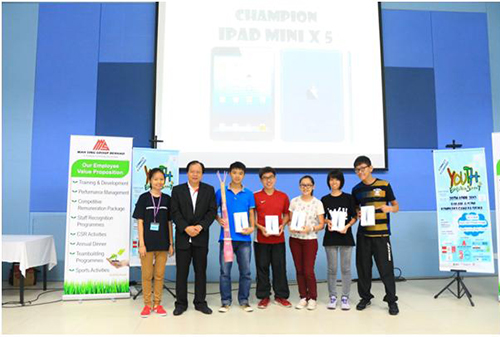 Grand Prize Winners for the Ipad Mini
Talk given by MAICSA
| | |
| --- | --- |
| President | Ng Soon Sun |
| Vice president | Nicholas Lim Yang Sheng |
| Secretary | Tan Yi Ling |
| Assistant secretary | Loh King Seng |
| Treasurer | Lum Man Houw |
| EXCO | Tan Woi Kiong |
| EXCO | Khoo Siang Kent |
| EXCO | Koay Chor Tze |
| EXCO | Gan Chun Kang |
| EXCO | Kang Kean Chiew |
| EXCO | Khong Kok Shen |
| EXCO | Ong Swie Hoong |
| EXCO | Shatish Rao A/L Samtharam |
| EXCO | Tan Ai Wun |
| EXCO | Lim Xin Yan |
| EXCO | Ivan Poong Chia Wern |
| EXCO | Darshini Subrammanian |
| EXCO | Bavani A/P K.Mohan |
| EXCO | Tan Soon Teck |
| EXCO | Ng You Noan |
| EXCO | Oo Yen Ling |
| EXCO | Miyuki Peh |