Tan Suk Ee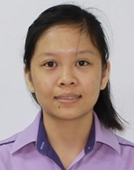 Name: Tan Suk Ee
Major: Finance
Company Name: Lumileds Malaysia Sdn Bhd
Company Address: Lebuh Kampung Jawa Bayan Lepas FIZ, Phase 3, 11900 Penang, Malaysia.
Position Held: Accountant
---
What do you enjoy most during your internship?
I get into real working environment which enhance my hands-on working experience from the company. I get to explore to the tasks I never do before during my part-time job and it is so much valuable and exciting. At the same time, I do have fun with my colleagues! Moreover, I also gain more connections and learn how to communicate in the professional way during my internship. Throughout my internship I get to absorb a lot of useful resources and give me opportunity to meet variety of professionals relating to my field.
How do you think the internship has changed your view on your career path?
I believe the most important thing in working field is not the tasks that assign to us, but is the people who we communicate and work with. Therefore, throughout the internship, I feel the most important thing would be to have good colleagues even the job or tasks are loaded. This is because you cannot work alone; you need to have support from colleagues. So, cheers up and enjoy the work!