Dr. Cheang Peck Yeng Sharon
{tab=Profile}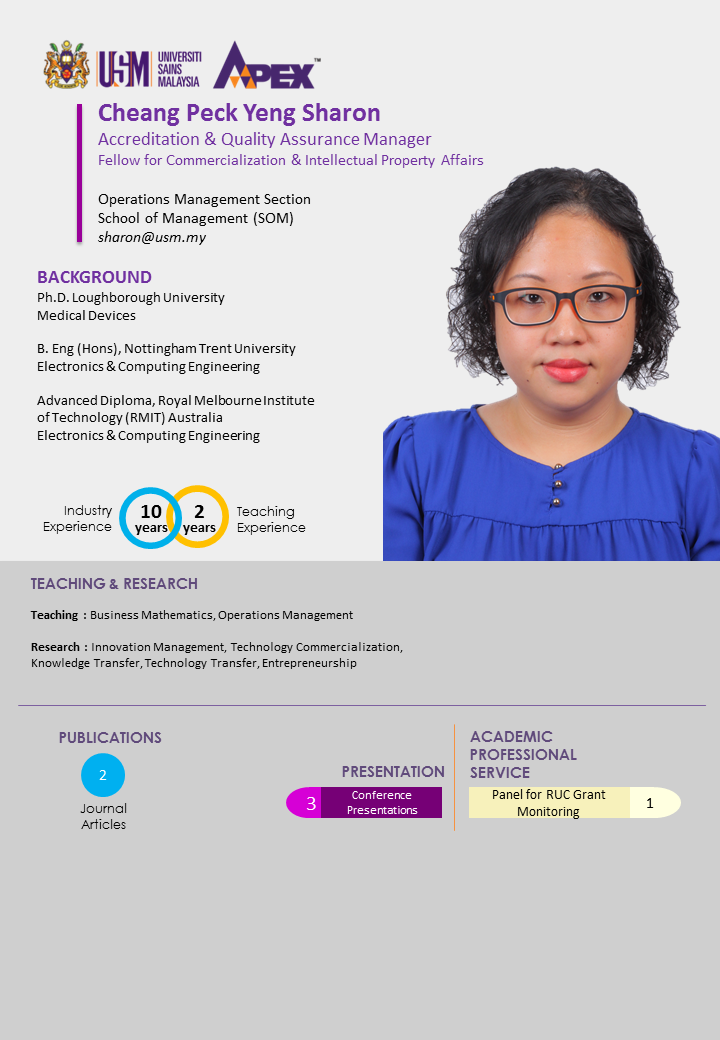 {tab=Profile-Details}
Position: Lecturer
Academic Qualifications:
PhD (Loughborough, UK)
B.Eng (Nottingham Trent, UK)
Contacts:
Room: Cabin A-12
Phone: (+604)653 5495
Fax: (+604)657 7448
Email: sharon@usm.my
Biodata:
SHARON CHEANG, Ph.D. is a lecturer at the School of Management, Universiti Sains Malaysia. Before joining the School of Management, she has worked in the area of technology transfer and commercialisation management for 9 years, both in the United Kingdom and in Malaysia. She obtained her Ph.D. degree in 2008 from Loughborough University, United Kingdom in the field of Electrical & Electronics Engineering and her Bachelor of Electronics & Computing Engineering (Honours) from Nottingham Trent University, United Kingdom. Her Ph.D. research has been published in several international journals and has presented at various conferences. Her research interests are in the areas of technology/knowledge transfer, entrepreneurship and academic-industry collaborations.
{tab=Research}
Research Area:

Technology/knowledge transfer, entrepreneurship and academic-industry collaborations.

Research Project:

On-going Research:

Completed Research:
{tab=Publication}
Selected Publications in Journals:
Selected Publications in Books and Book Chapters:
{tab=Collaboration}
Collaboration:
{tab=Others}
Others:

Awards:
Memberships:
{/tabs}