Mr. Shahidan Shafie
{tab=Profile}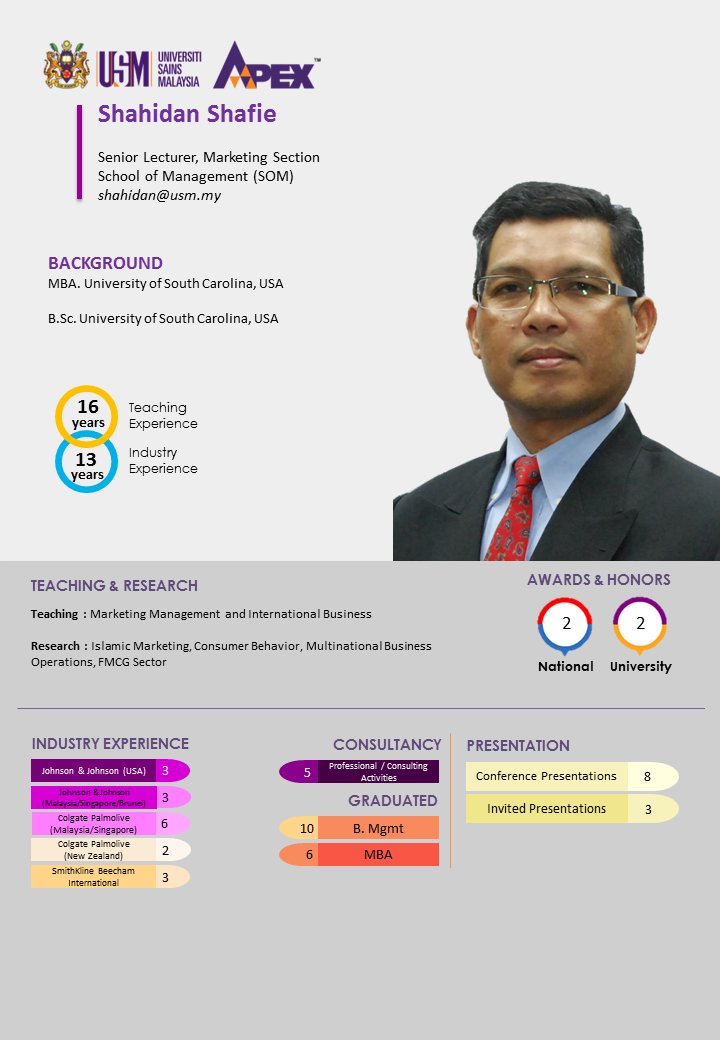 {tab=Profile-Details}
Position: Senior Lecturer
Academic Qualifications:
MBA (South Carolina, USA),
B.Sc. (South Carolina, USA)
Contacts:
Room: 209
Phone: (+604) 653 2525
Fax: (+604) 657 7448
Email: shahidan@usm.my
Biodata:
SHAHIDAN SHAFIE is a Senior Lecturer in the Marketing Section of the School of Management, Universiti Sains Malaysia, Penang. He holds a B.Sc. and an M.B.A from the University of South Carolina, USA. Mr Shahidan majored in Marketing and International Business – a program which was ranked No. 1 in the USA during the 1987-89 academic sessions. Prior to joining USM, Mr Shahidan worked as Marketing Manager with several multinational firms locally as well as abroad. Mr Shahidan's career in consumer marketing stretched over 13-year period and he was responsible in managing several household brands in the fast-moving-consumer-goods sector.
{tab=Research}
Research Area:

International Marketing, Strategic Marketing, Marketing, International Business, Brand Management

Research Project:

On-going Research:

Completed Research:
{tab=Publication}
Selected Publications in Journals:
Shahidan Shafie, Nabsiah A. Wahid, Mahmod sabri Haron, Ishak Ismail, Edzham Armin, Hamdia Mudor, "Locally Produced Food Product Perception Analysis: Connecting Technical Quality Parameters with Consumer Preferences", SME Mini Conference & 2nd Marketing Conference 2010, School of Management, USM, Penang, 2010.

Shahidan Shafie, Nabsiah A. Wahid, Mahmod sabri Haron, Ishak Ismail, Edzham Armin, Hamdia Mudor, "Peranan Penjenamaan, Pembungkusan dan Pelabelan di Kalangan Pengusaha Bahulu Mikro (PBM): Tinjauan Awal Pengusaha bahulu Tajaan FAMA, Pulau Pinang, SME Mini Conference & 2nd Marketing Conference 2010, School of Management, USM, Penang, 2010.

Shahidan Shafie, Nabsiah A. Wahid, Mahmod sabri Haron, Ishak Ismail, Edzham Armin, Hamdia Mudor, "Bahulu dari Perspektif Pengusaha Bahulu Mikro (PBM) di Kedah, Pulau Pinang dan Perlis: Analisis Kualitatif, SME Mini Conference & 2nd Marketing Conference 2010, School of Management, USM, Penang, 2010.

Shahidan Shafie & Md Nor Othman, "Marketing Halal Pharmaceuticals: the Case of Chemical Company Malaysia Berhad" –

2010 First International Conference on Islamic marketing & Branding "Exploring Issues & Challenges", organised by the Faculty of Business & Accountancy (Universiti Malaya), Brunell Business School (UK), and ESSEC Business School (France). Nov 29-30, 2010. (17 pages)

Shahidan Shafie, "Halal & Bahulu" , SME Mini Conference & 2nd Marketing Conference 2010, School of Management, USM, Penang, 2010.

Shahidan Shafie & Md Nor Othman, "Halal Certification on Pharmaceuticals: a Policy Issue" – 2009 IMTGT-International Halal Symposium entitled "Upholding the Sanctity of Halal'", organised by the Halal Products Research Institute, Universiti Putra Malaysia. (4 pages)

Shahidan Shafie & Md Nor Othman, "Malaysia's Halal Hub: Filling the Gap in Pharmaceuticals" – 2008 International Conference on Business & Management, organised by the Faculty of Business & Social Policy, Universiti of Brunei Darus Salam. January 8-9, 2008 in Bandar Sei Begawan, Brunei.

Shahidan Shafie, "Halal & Science," National Conference on Science, Technology and Society, Faculty of Science, Universiti Malaya, 2004 (4

Shahidan Shafie & Md Nor Othman, "Halal Certification – an International Marketing Issues & Challenges," 2006 IFSAM VIIIth World Congress, International Federation of Scholarly Associations of Management, Berlin, Germany

Shahidan Shafie & Md Nor Othman, "Halal: The Case of Colgate vs Mu'min" – 2007 AGBA World Conference, jointly organised by the Advanced Global Business Academy and the Asian Academy of Management, Penang, Malaysia

Shahidan Shafie & Osman Mohamad, 2002,"Halal – the Case of Malaysian-Muslim Consumers Quest for peace of Mind," American Marketing Association, 2002 AMA Winter Educators' Conference, Austin, Texas, USA.

Shahidan Shafie, 2003, "SpiceVEG Niche Marketing – the Case of Vegetarian Food Marketing in Malaysia," 2003 World Marketing Congress, Academy of Marketing Science, Perth, Australia

Selected Publications in Books and Book Chapters:

{tab=Collaboration}
Collaboration
{tab=Others}
Others

Awards:
Receipient – USM 'Anugerah Perkhidmatan Cemerlang' 2003

Memberships:
{/tabs}