Master of Business Analytics (March 2021 Intake)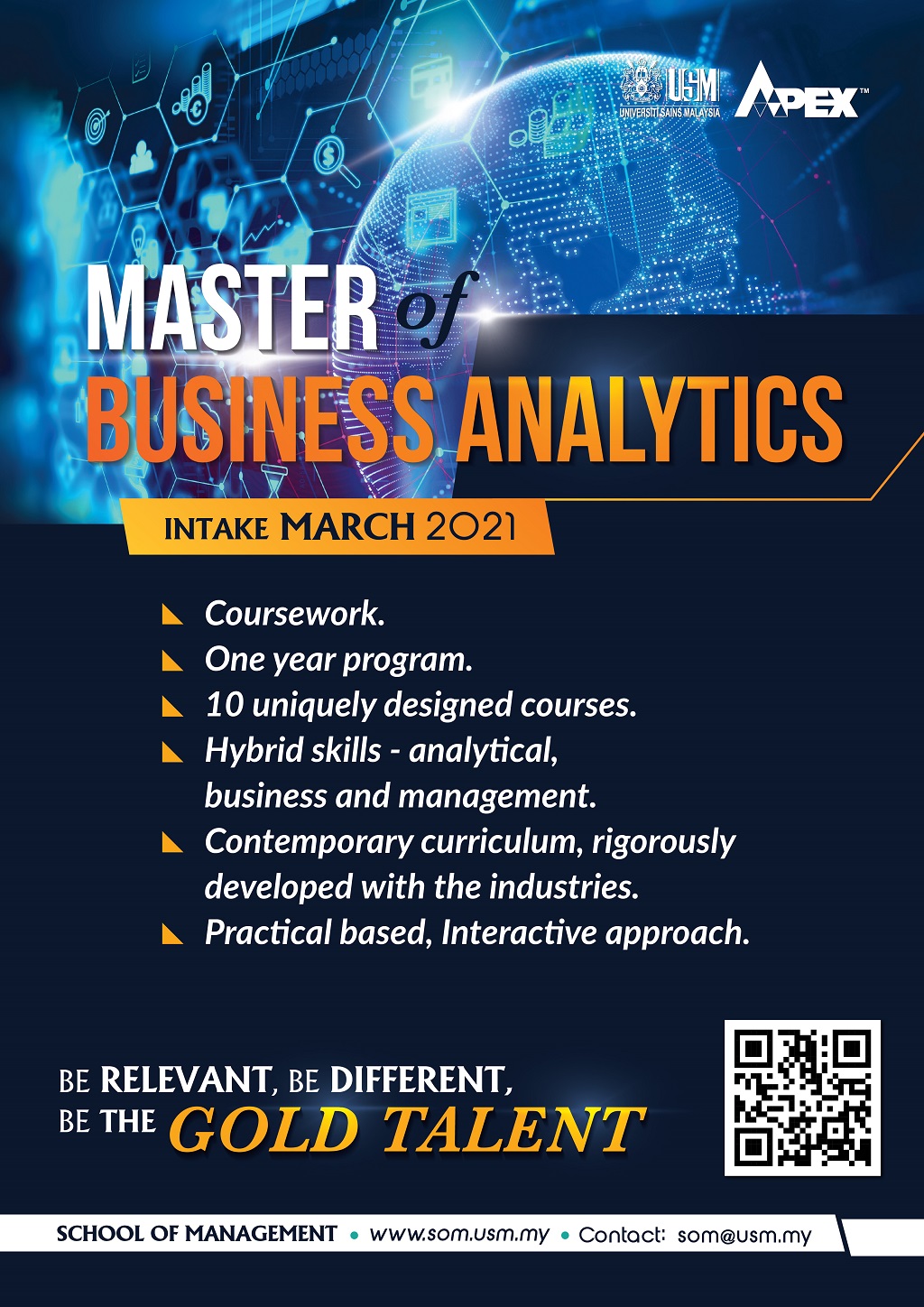 Check out the preview for this programme on our YouTube channel.
Program Highlights
The Master of Business Analytics is designed to produce skilled talents in Business Analytics to meet the needs of talent in the big data era and the industrial revolution 4.0. The program answers the industry's demand for a skilled pool of graduates who can apply data analytics skills to solve business challenges. It also provides exposure to students for circumventing the practical-based business analytics problem. This program is suitable for fresh graduates who plan to pursue a career in the business analyst industry and working adults who those seeking career advancement or change.
ONE YEAR Master of Business Analytics
Only 10 Unique Subjects
Hybrid Skills Gold Talent
Practical Based
RM18,060 fee for local students
USD6,300 fee for international students
Why Join Us?
1. First full fledged master program in business analytics
2. Cover all business aspects
3. Practical application of business analytics problems
4. Well trained teaching professionals
5. Offer in Full Time & Part Time
Master of Business Analytics

Career Opportunities
Business Analyst, Senior Business Analyst, Business Intelligence Analyst, Data Analyst, Human Resource Analyst, Finance Analyst, Supply Chain Analyst, Market Analyst, Operation Analyst, Manager with Hybrid Skills
Program Structure
One-year Program
Coursework mode
42 credit units
10 subjects including practical based project
6 core, 3 electives and 1 project

Courses
Core Courses (Compulsory)
ABW501/4 Analytics Edge
ABW502/4 Advances in Digital Technology
ABW503/4 Management Insights
ABW504/4 Statistics for Analytics
ABW505/4 Data Programming and Predictive Analytics for Business
ABW506/4 Data Storytelling and Visualization
Electives (Choose any three (3) courses)
ABF502/4 Accounting and Finance Analytics
ABF503/4 Financial Technology and Digital Innovation
ABF507/4 Economic Insights
ABM502/4 Marketing Analytics
ABM503/4 Web and Social Media Analytics
ABO502/4 Human Resource Analytics
ABO503/4 Collaborative Foresight
ABP502/4 Data-Driven Insights and Actions
Project (Compulsory)
ABW508/6 Analytics Lab
Synopsis of Courses
ABW501/4 Analytics Edge
This course explains the scientific process of transforming data into insights for analytics-driven business decision making. It covers the methodologies, issues, and challenges related to analysing business data. It prepares students to understand business analytics and become leaders in these areas. Students will learn to apply analytical tools, algorithms and methodologies to solve business problems. Students will also go deeper into advanced investigative and computational methods for developing their personal analytical skills and perspectives. RapidMiner or other potential analytical tools will be used whenever applicable based on simulated business examples.
ABW502/4 Advances in Digital Technology
The rapid evolution of digital technologies is creating not only new opportunities for our society but challenges to it as well, and institutions of every stripe are grappling to respond by adapting their strategies and activities. Corporations and governments are reorganizing to enhance productivity, improve quality, and control costs. Entire industries have been restructured to better align themselves with the realities of the digital age. It is no great exaggeration to say that information technology is fundamentally changing the relationship between people and knowledge. Thus, this course will expose the students to the concept, application and practice of the advancement of digital technology.
ABW503/4 Management Insights
This course aims to provide students with important management theory, concepts and techniques in the context of management research. It will expose students to the basics of each level of analytical data. Students will also be exposed to the latest environmental changes and management techniques in the context of real work situations.
ABW504/4 Statistics for Analytics
This course is designed to give students exposure to the basics concept of statistics being used in business and management. Students will be introduced to descriptive statistics, basic probability, probability distributions, estimation and confidence intervals, hypothesis testing and correlation and regression analysis. This course will enhance the student's capability to make analysis decisions and use them in solving business and management problems. Statistics are also used to show the importance of business and management sustainability, and to measure the development of a sustainable or green economy.
ABW505/4 Data Programming and Predictive Analytics for Business
This course aims at providing the students with both the general programming concepts as well as hands-on sessions on practical knowledge in Python or R for business and management applications. It equips the students with skills to design and write algorithms, as well as to use the available Python or R packages, for decision making to solve business and management problems.
The course also explains the predictive modelling techniques and their core principles, whereby students will learn a solid foundation of predictive analytics, which refers to tools and techniques for building statistical or machine learning models to make predictions based on the business datasets. The techniques discussed are applied in all functional areas within business organizations including talent management, finance, international business, accounting, marketing and operations management. Students will able to determine what kinds of predictions they can make to create future strategies and be prepared to take full advantage of analytics to create effective data-driven business decisions.
ABW506/4 Data Storytelling and Visualization
This course provides students with an understanding of the keys to data storytelling – data, visuals and narrative in the global business environment. Students will learn on the strategies for effective storytelling in analysing business problems and communicate important insights to the audience using a variety of visualization tools. At the end of this course, students will be able to enhance their ability to understand the context of the data, choose an effective visual design, communicate effectively with the data and make better data-driven business decisions.
ABF502/4 Accounting and Finance Analytics
The fourth industrial revolution requires the integration of interdisciplinary knowledge. This course fulfils the needs of businesses to analyse ready-data from accounting and finance. A future company needs to generate essential information from accounting and financial data and linked up this information with the company's external information like those from social media, demographic and macro-economy. For this purpose, besides solid knowledge in accounting and finance, practical knowledge to handle data with sophisticated tools and software is also needed to ensure that students are able to understand the relationships in the unprecedented amount of data flowing into the organizations.
ABF503/4 Financial Technology and Digital Innovation
This course provides knowledge on financial technology starting with the basics of finance and its instruments. It introduces students to the Fintech landscape that has the potential to disrupt traditional financial methods, ecosystems, global and local evolution. It also exposes advanced technologies such as artificial intelligence, machine learning, robot process automation and more, and discusses how technology can help industry and society towards a more inclusive, competitive and sustainable financial.
ABF507/4 Economics Insights
This course is designed to expose the students on how choices are made to allocate scarce resources with competing uses, depending on overall, national as well as international, economic conditions. It is a discipline that combines microeconomic theories and macroeconomic theories with management practice by applying the latest techniques on big data analysis.
This course, therefore, incorporates wide-ranging relevant topics such as knowing the markets in which the businesses are operating in, price and non-price strategies, production function in the microeconomic environment and later be complemented with several economic conditions such as monetary policies, fiscal policies, and relevant macro policies for open economies as well as win-win business outcomes with regards to environmental preservation and social interest.
It provides an illustration of economic theory and concepts on how economic analysis can assist in the decision-making process which is essential for business leaders for managing an organization for sustainability and equality.
ABM502/4 Marketing Analytics
This course will introduce students to the tools and techniques behind a systematic and analytical approach to marketing decision-making. Students will be exposed to the analytic challenges faced in marketing and introduced to four fundamental marketing strategy principles that can help address the challenges. Students will develop analytic competencies pertaining to the four principles by learning how to measure customer preferences, establish different ways for market segmentation, identify potential or attractive customers to target, determine the best positioning for a brand and developing new products that add value through techniques like conjoint analysis, cluster analysis, positioning maps, logistic regression, response and choice models. Data analysis will be carried out via Marketing Engineering (MeXL) analytic tool, which is an add-on to Excel.
ABM503/4 Web and Social Media Analytics
The digital technologies of web and social media applications have fundamentally reshaped marketing theory and practice over the last decade and have led to a drastic shift in quality and quantity of information we are able to capture, store and analyse. With this proliferation of data has come an increasing need for many businesses to better understand and react to various customer characteristics. This course is designed to provide the skills and tools needed for students to recognize the role of web and social media analytics within the digital marketing landscape.
ABO502/4 Human Resource Analytics
Human Resource Analytics provides a clear and easy-to-understand human resource management process. This is a course that provides insights into advanced human resource management, taking into account the use of virtual data analysis to create an efficient human resource management system. This course also provides exposure to talent management according to industry suitability and management direction. The subject will expose students to effective work processes, data analysis techniques using the SPSS statistics package and further interpret the results, helping to convey the potential of human resource analysis to make the most of existing human resources. Case study methods are also used to provide exposure to each of these human resource management practices.
ABO503/4 Collaborative Foresight
The complexity of the future can be overwhelming and adapting to change is inevitable. It is therefore important for organizations to prepare for the future in order to remain competitive in today's rapidly changing business environment. Collaborative foresight is critical to acknowledge the possibility of multiple futures to accelerate organizational development. It enhances organizational resilience by improving ideation, problem definition and consensus in long-term strategies. Students will be exposed to a wider perspective on today's drivers of change for organizations to increase the variety of perspectives in scenario creation and make appropriate decisions, in order to harness the potential of new possibilities of the future.
Students will learn various strategic tools and statistical techniques to make predictions on various scenarios which will result in improved strategic options. The strategic tools such as 'TOWS Matrix', 'Competitors Analysis', 'Business Portfolio Matrices', 'SPACE Matrix' will be aligned with the statistical tools such as Artificial Intelligence, RapidMiner and other related tools will be applied to produce Scenario Planning and solution ideas. In this case, students will learn the techniques and analytics to generate future scenarios, assess the impacts of those futures and craft suitable strategies that are resilient to different future outcomes.
ABP502/4 Data-Driven Insights and Actions
This course describes the concepts and techniques of data analysis and action research. Students will learn the importance and development of data. Students will learn to design models using analytical tools and techniques. Students will learn to create models based on blending techniques and tools such as simulation and optimization to identify actions in data analysis. They will also learn to develop the critical thinking skills needed and make predictions in the context of management. In addition, students will learn to select and apply such analytical data processes and methods. RapidMiner or other potential analytical tools will be used based on management cases.
ABW508/6 Analytics Lab
This course is designed for students to apply analytical skills in business problems in the global business environment. The course provides an opportunity for students to leverage data analytics in analysing business problems and recommend a feasible business solution. In this course, students can choose one of the options; first, use the real dataset from industry or simulated dataset from the website and second, collaborate with analytics teams in organizations to obtain small analytics projects and solve real-life cases. At the end of this course, students will be able to conduct analytics lab projects based on their area of interest and make a better business decision.
Entry Requirements

A recognized Bachelor Degree in Management, or any other related and recognized degree with a minimum CGPA of 2.75; OR​
For CGPA of 2.50 - 2.74, a degree as stated above is required, with an additional minimum one year research experience/one year working experience/one academic publication in related field/Grade B for major/elective courses/Grade B+ for final year project; OR​
For CGPA of 2.00 - 2.49, a degree as stated above is required with an additional minimum five years research experience/five years working experience AND one academic publication in related field/Grade B for major/elective courses/Grade B+ for final year project; OR​
Other equivalent qualifications such as Accreditation of Prior Experiential Learning (APEL).