SOM RANKED AMONG WORLD'S 1000 BEST BUSINESS SCHOOLS
January 2017 - School of Management (SOM) can add another feather to her cap with the recent unveiling of Eduniversal's 2016 Ranking of the World's 1000 Best Business Schools. The results of the ranking which were officially announced at the 9th World Eduniversal Convention in Perth, Australia revealed SOM as one of the top 1000 best business schools in 154 countries as voted by 1000 Deans in its annual survey.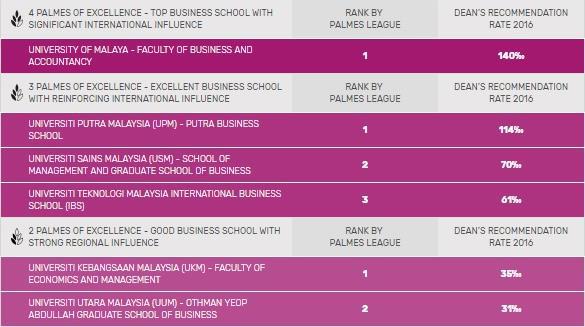 Source: http://eduniversal-ranking.com/business-school-university-ranking-in-malaysia.htm
Eduniversal follows a 3-step evaluation process in establishing a business school's ranking among 154 countries. In the first step, schools and universities are selected by country. Subsequently they are divided into five leagues of excellence or "Palmes of Excellence" within each country. A "Palme of Excellence" level ranging from 1 to 5 is designated for each of the schools according to the set of internationalization criteria outlined by Eduniversal's International Scientific Committee. The committee is composed of nine experienced and prominent academic experts recognized in their geographical zone. In the final step, ranking of schools within their league is then determined according to the evaluation made during the Dean's Vote Survey.
SOM has been bestowed 3 Palmes of Excellence having ranked second under this league with a 70% Dean's recommendation rate. This achievement marks yet another significant milestone for SOM given that Eduniversal is a well-respected global ranking and rating agency specializing in higher education. Since 2008, Eduniversal has been publishing its annual 1000 Best Business Schools in 154 countries and announcing the results of the ranking at its annual Eduniversal World Convention where the most prestigious professionals in the higher education industry convene and interact with fellow international counterparts.
For more information on the entire 2016 ranking of the World's 1000 Best Business Schools and an depth look at its methodology, please visit www.eduniversal-ranking.com